CRYSTALS TO SUPPORT US IN 2023, Part 1
There are many different ways to select crystals and one that is often neglected is via numerology. How can we do this?
To get a numerological value, the letters of the alphabet are, in order, assigned the numbers from 1 to 9 like this –
| | | | | | | | | |
| --- | --- | --- | --- | --- | --- | --- | --- | --- |
| 1 | 2 | 3 | 4 | 5 | 6 | 7 | 8 | 9 |
| A | B | C | D | E | F | G | H | I |
| J | K | L | M | N | O | P | Q | R |
| S | T | U | V | W | X | Y | Z | |
And then you would add up the numbers for each letter of your word for example –
FLUORITE
6+3+3+6+9+9+2+5 = 43, we then add the 4 and 3 together to give us 7, so Fluorite is a 7 and can be said to resonate with the number 7 and its properties. 2023 is a 7 year (2+2+3), and therefore all crystals that are a 7 automatically can be particularly helpful this year.
Here are a few I noted -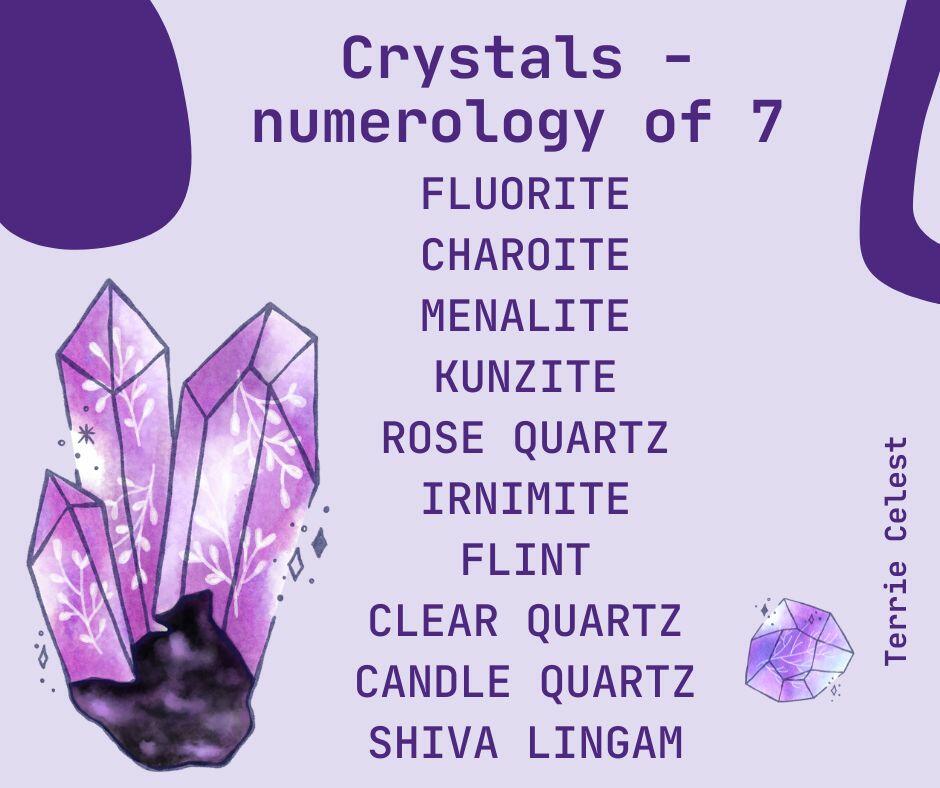 In addition, being a 7 year resonates with the 7th Ray, the Violet Ray and its patron, Saint Germain. Within this we have the power of the Violet Flame, the physical manifestation of this ray, with its transformational and alchemical energies and link to the akashic records and crystals with a violet and purple colour are naturally associated with the various types of the flame (there are many variations, not just one!) and the Archangels and Masters linked with these.
But to keep it simple for now, Amethyst is the main crystal that will link you to the Violet Flame and Saint Germain. Others include Vera Cruz Amethyst, Lepidolite, Sugilite, Charoite, Iolite and Ametrine. I found it interesting that Charoite is also a 7 crystal and works well with Chiron energies, the wounded healer, and therefore karmic/akashic energies, so this will be particularly helpful this year. And I have recently been given a new crystal net for Charoite which was tested out earlier in March when Jupiter and Chiron met. I will do a separate post on that soon, when I have finished checking out how it works, as there seems to be slight variations or additions from person to person, which of course, would be perfectly appropriate given that our karma is going to be very individual!
Other ways you could use numerology to select crystals include adding up the letters of your name or your date of birth. When you start looking deeper, you can pick ones that resonate with the bigger number before it is reduced to a single digit. So, 16, 25, 34, 43, 52, etc etc all come back to a 7 and if your name came back to 61/7, you could look at a crystal that was also a 61/7, rather than a 25 or 43. It is interesting to start playing with these ideas and see what comes up. We often have an affinity with a crystal that matches us numerologically!
There are some simple apps available that can take the hard work out of the mathematics, I particularly like one called Numerian.
© Terrie Celest Soul Guide
www.astrologywise.co.uk www,crystalwise.co